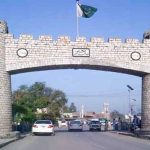 KARACHI: At least five suspects were arrested in the wee hours of Sunday as security forces foiled a terror bid targeting New Year Eve in Karachi.
As per details, on a tip off over alleged presence of suspects, police raided a place in Pir Ilahi Buksh Colony or Pir Elahi Bux Colony (PIB Colony) Karachi.
Police had to face a hand grenade attack and shots that were fired at their vehicle. A police spokesman told that counter fire was opened, however, there was no loss of life and as a result of the raid five suspects were arrested.
During the raid, police seized a motorcycle that was fitted with 8 to 10 kg explosives. Three hand grenades and other weapons were also recovered.
DIG East Zone Aamir Farooq revealed that the accused were plotting a terrorist attack on New Year Eve.