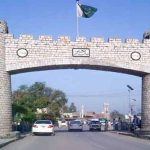 SIALKOT: As many as two terrorists hailing from outlawed Tehreek-e-Taliban Pakistan have been arrested from Sialkot hours before religiously important night is going to be today (Tuesday).
The terrorists were nabbed from the city area of Orah Chowk, said the Counterterrorism Department of Punjab police.
"The detained saboteurs wanted to launch a terrorist activity on Shab-e-Bara'at," said the CTD sources.
The arrested terrorists, Wajahat Hussain and Sajjad Ahmad, belong to Sialkot, according to police.
Police seized explosives and shifted them to an undisclosed location for interrogation.