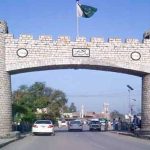 HARIPUR: The district police Friday foiled a terrorism bid recovering huge quantity of 100 kilogram explosive and related material from a car and arresting an accused.
A district police official said that the district police during snap checking near Shah Maqsoos Sarai Saleh intercepted a car No. NB-759 and during the checking recovered 100 kilograms explosive, two carton safety fuze wire (1600 meter) and 8 bundle detonators (400 numbers).
Police arrested driver of the car who was identified as Nazir Ahmed and registered FIR against him and produced him before the court and get one-day physical remand for investigation.