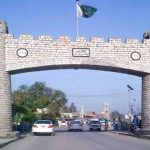 ISLAMABAD: Caretaker Foreign Minister Abdullah Hussain Haroon has said that terrorism remains a big challenge for Pakistan.
Addressing a conference in Islamabad on Wednesday, he pointed out that recent terrorist attacks in Bannu and Mastung clearly indicate that more needs to be done to wipe out terrorism.
The foreign minister however admitted that the country certainly has suppressed the menace strongly over the last few years and the terrorist elements are not that much strong as they once used to be.
Highlighting the challenges on the foreign policy front, the foreign minister said there are also plenty of opportunities for Pakistan which have not yet been tried.
He said we have to move towards redesigning and reframing our policies for the betterment. He said the new consideration has to be economy.
Turning to the issue of water shortages faced by South Asian region, the foreign minister said that Indus water treaty does not remain sacrosanct and both India and Pakistan need to settle their water related disputes.