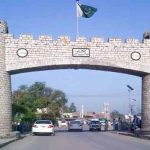 KARACHI: Chief Minister Punjab Shahbaz Sharif Wednesday said that terrorism could not be eliminated by use of force, adding that education, justice and better health facilities could only eliminate the terrorism and extremism in the country.
He was talking newsmen after separately meeting with governor and chief minister Sindh during his one day visit to Karachi. He said that the prime minister and interior minister were serious restoration of complete peace in Karachi.
He said that Pakistan could not progress unless terrorism was eliminated from the country, adding that many successes have been achieved in war against terrorism. He said that all should jointly struggle against terrorism.
He said that he congratulated the chief minister over arrest of terrorists behind Safoor incident. He said that he discussed the different issues related to Sindh and Punjab with the chief minister, adding that they also discussed the problems being faced by Sindh. He said that collective development was the real prosperity of the country.