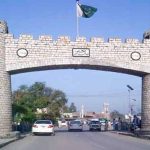 PESHAWAR: The Khyber Pakhtunkhwa government on Sunday released the figures of incident of terrorism including target killings, attacks on security forces and suicide attacks in the province during the last six year.
As per the report released by KP Home Department, some 4,120 incidents of terrorism and target killing were reported , besides 116 suicide attacks and 894 bomb blasts. It said that 1,287 attacks were carried out on security forces by the terrorists while 507 incidents of target killings and 316 rocket attacks were reported.
It said that since the launch of operation Zarb-e-Azb and National Action Plan the incidents of terrorism have decreased. The report said that last year some 184 bomb blast and grenade attacks were reported which decreased to 89 during the current year. It said that last year some 180 attacks on security forces were reported while during the current year 122 such incidents have been reported so far.
The report said that last year some 11 rocket attacks were reported while this year so far one such incident has been reported.
The home department report said that incident of target killing dipped by 23 percent during current year when compared to last year.