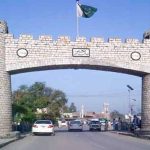 KARACHI: Inspector General of Sindh Police (IGP) on Friday briefed Sindh Chief Minister Syed Murad Ali Shah on an attack on Chinese consulate located in Clifton area of Karachi.
Presenting initial report to the Sindh CM, the IGP said that the process of identification of terrorists involved in attack on Chinese consulate has been completed.
The first terrorist was identified as Abdur Razzaq, a government employee was a resident of Balochistan's Kharan area.
The second terrorist has been identified as Azal Khan Mari alias Sangat Dada, alleged sources, while the third attacker has been identified as Raees Baloch.
The IGP said that two civilians were also martyred in the attack.
Murad Ali Shah directed the Sindh IGP to contact Baloshistan government and share details.
He also expressed satisfaction over the operation carried out jointly by the police and Rangers.
The Sindh CM said that the Counter-Terrorism Department (CTD) and South Karachi police will investigate the incident.
Earlier, four people were killed when gunmen armed with hand grenades and a suicide vest stormed the Chinese consulate in the Pakistani city of Karachi.
Security forces had secured the area after the attack, the latest assault on Chinese nationals in the country, where Beijing has poured billions of dollars into one of the largest projects in its massive Belt and Road programme.
China "strongly condemned" the attack and asked Pakistan to take measures to ensure the safety of Chinese citizens and institutions in the country, as well as the China-Pakistan Economic Corridor (CPEC) mega-project.
Three gunmen tried to enter the consulate in the southern port city, but were intercepted by guards at a checkpoint.