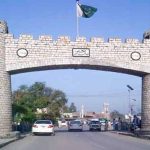 UPPER DIR: Anti-terror police on Thursday claimed to have arrested a terrorist involved in a deadly suicide bombing at a local mosque that left at least 33 people, including 12 children, dead.
According to police, Counter Terrorism Department (CTD) carried out a targeted operation in Sheringal area after receiving inputs from secret agencies about the presence of wanted terrorist in the area.
Following the raid, CTD arrested a terrorist identified as Sheraz alias Shehzada.
According to CTD, he was facilitator in a suicide attack on a masjid in the Haya Gai area of Upper Dir in 2009 in which 33 people, including children, were killed. He is associated with a banned outfit, said CTD.
He was shifted to undisclosed location for further interrogation.