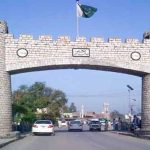 D I KHAN: At least three policemen were injured when terrorists armed with sophisticated weapons stormed Tikwara police checkpost in Dera Ismail Khan on Friday.
According to District Police Officer Shoaib Khan, unidentified assailants attacked a security check post by firing more than 17 rockets. The police, however, managed to repulse the attack.
According to police, they also retaliated and traded fire. They fought bravely and forced the militants to retreat. In the gunfight which continued for almost over two hours, several terrorists were killed and three cops got hurt.
Police said that the retreating militants took with them their dead and injured men.
After receiving information of the attack, the DIK DPO rushed to the scene. He himself rescued the injured policemen and shifted them to the hospital.
Police said it was the most organized attack by the terrorists in DIK. However, the police defeated the nefarious designs of the militants with the help of their best policy.
Due to worsening security situation and rising terrorist attacks in the country, Prime Minister Shehbaz Sharif has decided to call a meeting of the National Security Committee (NSC) today.
The decision to summon the meeting of the NSC was taken in a meeting between Prime Minister Shehbaz and Chief of Army Staff Gen Asim Munir on Thursday.
Over the past few months, the law and order situation in the country has worsened, with terrorist groups like the outlawed Tehreek-i-Taliban Pakistan (TTP), the militant Islamic State group, and Gul Bahadur Group executing attacks with near impunity across the country.
Insurgents in Balochistan have also stepped up their violent activities and formalised a nexus with the TTP.
The US, UK, Australia and Saudi Arabia have issued advisories, asking their nationals to restrict movements in Pakistan and avoid non-essential trips.