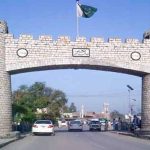 WANA: Suspected terrorists attacked  a police station in Wana, headquarter of the South Waziristan, and hostage the cops for a short time.
Around 60 terrorists attacked police station in South Waziristan bordering the Afghanistan carrying lethal weapons, including hand grenades and rocket launchers. The police showed resistance and killed one of the attacker. However, the terrorists forced the cops on duty breaching the police station's boundaries and held the security forces hostage and looted the arms and ammunition stored in the compound. Later, they released the hostage cops.
The area has been cordoned off, and a search operation is underway. The police station is now under FC's control.