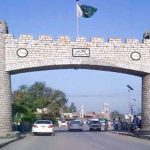 FAISALABAD:A university in Punjab province has decided to celebrate 'Sisters Day' instead of Valentine's Day on February 14.
The University of Agriculture, Faisalabad will not be allowing its students to celebrate Valentine's Day to promote eastern values and Islamic culture, according to the university's vice-chancellor.
Valentine's Day, also called Saint Valentine's Day or the Feast of Saint Valentine, is celebrated annually on February 14, and is seen as purely a Christian event in many Muslim countries.
"We are preparing a plan to distribute scarf, shawls and gowns printed with UAF insignia among female students on the day," Dr Zafar Iqbal Randhawa said in a statement on Sunday. "In our culture, women are more empowered and earn due respects as sisters, mothers, daughters and wife."
The VC proudly took credit for the idea and requested "wealthy" people to donate money to buy the gowns and scarves.
He also inaugurated the signage titled "I love UAF" established near Clock Tower of the university.