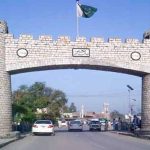 ISLAMABAD: Leader of the Opposition, Shehbaz Sharif on Wednesday lashed out at the Pakistan Tehreek-e-Insaf government and said there's an unholy alliance between the National Accountability Bureau and the ruling PTI.
In his first address in the National Assembly after his arrest in a corruption scandal, the PML-N president said that the premiership of Imran Khan is an outcome of rigging.
The PML-N president, who is facing corruption charges in Ashiana Housing Scheme, thanked the PPP co-chairman Bilawal Bhutto and other opposition leaders for demanding his production orders for NA session.
'I am not here to discuss the merits of my case, this is not the forum but I will detail the duplicity of accountability process.'
Sheikh Rasheed, he said, had in July stated that I will be arrested soon. 'The NAB chief had already approved my arrest on July 06 but why were they not implemented, the history will tell, he added.
Detailing the interrogation of NAB in the scam, the PML-N president said the anti-graft body told me that there are no corruption charges against you in the award of Ashiana but you favoured brother of former army chief Ashfaq Pervez Kiani by cancelling the contract.
The contract was awarded by the government of Ch Perveaiz Elahi and not PML-N, he said. 'The PML-N, in-fact has saved billions of rupees in mega projects.'
'When the NAB official, who was interrogating me alleged that I have properties in Turkey and China, I hit the roof. I challenged the accusation, they stepped back. Then, the officer blamed that the assets may be 'benami', I challenged this too. And they stepped back from it too.'
'And these are the same allegation that Imran Khan has been levelling against me. What else do we need to ascertain the NAB-PTI alliance, Shehbaz said.
Is this National Accountability Bureau or National Blackmailing Bureau, he asked.
Earlier, the younger Sharif, who is currently in NAB custody, was brought to the National Assembly on Wednesday to attend the today's session.
Speaker Asad Qaisar had issued production orders for Shahbaz, stating that he should be allowed to attend the session on a daily basis under the rules.
The Speaker has summoned the session by exercising the powers conferred upon him under article 54(3) of the Constitution to discuss the sudden arrest of the PML-N president.