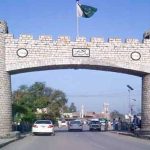 ISLAMABAD: The country's intelligence agencies have issued security alert over threats of terrorism to Peshawar, Islamabad and Rawalpindi following series of terrorist incidents in Lahore, Mohmand, Peshawar and Sehwan.
National Counter Terrorism Authority (NACTA) issued a letter to Secretary Punjab Home Department.
According to the notification, a suicide bomber, Usama, has been primed for terrorism and a terrorist, Ghazali, holed up in Quetta, planned the sabotage activity.
The letter also called upon the ministry to heighten the security of vital installations, buildings, hospitals and schools.
Meanwhile, Islamabad police have tightened the security of all shrines in the city and special vigilance is being maintained through checking of devotees as well as strict patrolling in the vicinity of these religious places, police source said.
Following directions from SSP Islamabad Sajid Kiani, elaborate security arrangements is being maintained and metal detectors are being used for checking of devotees.
He said that cooperation of citizens is very much crucial for success of security arrangements in the city and asked to inform police in case of observing any suspicious activity.
Meanwhile, Islamabad police along with Pak Rangers conducted search operation in various areas of the city. Police is conducting checking at slum areas, inns, hotels and restaurants.
These measures are being taken to ensure foolproof security and keep vigilant eye on the suspected elements.
SSP (Operations) Islamabad Sajid Kiani has said that a comprehensive plan of searching and combing has been devised to secure the city. He said Islamabad police would continue search operations in coming days and complete combing would be made of sensitive areas.