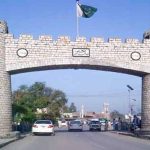 LAHORE: The country's intelligence agencies have issued a security alert across Punjab, fearing that terrorists of Tehreek-e-Taliban Pakistan may target security forces, schools and hospitals.
"Reportedly, it has been learnt that TTP terrorists ex Sajna Group have acquired Army Uniform (CCD) and they were observed undergoing training in Afghanistan," stated a letter titled 'threat alert' issued to heads of various departments including IG Punjab.
The letter, bearing the date of 12 December, has also been sent to Secretary to Higher Education Commission (Punjab), Secretary to Schools Education Department (Punjab), all divisional commissioners.
It is hinted in the notice issued that terrorists might wear security personnel uniforms and then target educational institutes, hospital, offices, and state vehicles in Punjab.
"There are reports that they will target administrative areas, convoys, schools and hospitals… Forwarded for ensuring extreme vigilance and heightened security measures at all levels. Special measures may also be taken to avoid any untoward incident," the letter further stated.