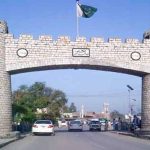 NOWSHERA: At least nine poeple including three officials of the bomb disposal squad (BDS) were injured when a bomb exploded in Azakhel Payan area of Nowshera district here on Wednesday, police officials said.
Police said unidentified miscreants had planted an explosive device in a gas cylinder in the gate of the house of a tribal elder from Mohmand tribal district. The Bomb Disposal Unit was called to defuse the bomb. The officials were defusing the bomb when it exploded due to which three officials of the Bomb Disposal Unit and six other people were injured.
The injured persons were taken to Lady Reading Hospital Peshawar for treatment. According to the hospital administration, the condition of the injured persons was out of danger. The administration said Hospital Director Khalid Masood, emergency director and his team were present in the emergency hall when treatment was provided to the injured persons.
The injured policemen were identified as Habibullah, Arif Naeem Khan, while the injured civilians were identified as Abdul Aziz, Waheed, Habibullah, Hayat, Azmat and Saeed Nawab.
A police team led by District Police Officer (DPO) Mansoor Aman reached the blast site after the incident and cordoned off the area and collected evidences. A search operation was also carried out in the area, but there was no report about any arrest.
After Wednesday's blast, police has further enhanced security measures in Nowshera district ahead of Eidul Azha.