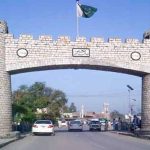 ISLAMABAD: Airport Security Force arrested three Chinese nationals that were found filming the newly constructed international airport in Islamabad.
The ASF shot down a drone that foreigners used to film the new airport. A total of six people including two Pakistani citizens have been arrested.
The ASF took into custody the wreckage of the shot down drone that fell into the parking area. The Chinese nationals were trying to film the new airport through a drone, according to a spokesperson of the airport.
The accused told the interrogators that they obtained a license from Civil Aviation Authority to fly the drone a few days ago. By that time, the ASF had not taken over the security of the airport, they said.
However, the investigations laid bare the fact that the accused had not got any permit to make drone footage of the airport.
The ASF handed the accused to the CAA for further investigation.
The airport that was previously scheduled to be fully operational on April 20, will now begin complete flight operations from May 3, according to the CAA announcement.