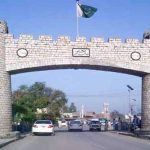 PESHAWAR: A three-day anti-polio campaign begins in seventeen districts of Khyber Pakhtunkhwa and FATA tomorrow. During the campaign, about five point five million children up to five years of age will be administered anti-polio drops.
More than eighteen thousand teams have been deputed which will visit door to door to ensure administering anti-polio drops to all children up to five years of age.
Special security measures have also been taken to avoid any untoward incident during the campaign.