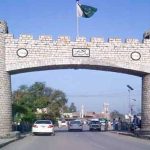 PESHAWAR: A three-day anti-polio campaign will kick off today (Monday) hoping to vaccinate some 0.5million children under the age of five in five districts of KP.
The decision, according to officials at the K-P Emergency Operation Center (EOC), was taken during a meeting chaired by the EOC Coordinator Akbar Khan.
The officials also revealed that the campaign will be carried out in Shangla, Battagram, Kohistan, 15 Union Councils (UC) of Abbottabad and 13 UCs of Mansehra. They added that the drive has been scheduled as response to the polio case in Gilgit-Baltistan.
"Tremendous successes have been achieved in K-P due to the hard work and dedication of polio workers, as well as the valuable cooperation by partner organisations and all segments of society," Akbar told the participants of the meeting.