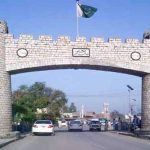 PESHAWAR: A three-day anti-polio campaign was alunched in in twenty-five districts of Khyber Pakhtunkhwa and twenty one districts of Balochistan here on Monday.
According to Khyber Pakhtunkhwa Health Department, about five point six million children up to five years of age will be administered anti-polio vaccine during the campaign.
More than twenty-seven thousand teams have been constituted which will visit door-to-door to ensure administering anti-polio drops to each and every child.
Polio teams will also be deployed at bus stops, railway stations, Afghan refugee camps and other public places.
Similarly, all age anti-polio vaccination campaign also starts at Pak-Afghan border in Torkham today to eradicate circulation of polio virus between Pakistan and Afghanistan.
In Balochistan, more than 1.7 million children up to five years of age would be administered anti-polio drops during the campaign.
About six thousand mobile teams have been constituted for this purpose.
Strict security measures have been taken for security of polio teams.
Lately, Prime Minister Imran Khan's office had urged the country's telecoms regulator to take action against misinformation spread on social media discouraging vaccination against polio and other diseases.
"The parental refusals due to misconceptions regarding the vaccine are emerging as the major obstacle in achieving complete eradication," Khan's office said in a letter to the Pakistan Telecommunications Authority head, referring to parents who refuse to get their children vaccinated.