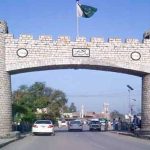 PESHAWAR: A special three-day anti-polio campaign in selected tribal districts and subdivisions will start from Monday, under the supervision and
security provided by Commissioners, Deputy Commissioners, Health Officials and Security Agencies.
This three days campaign will be the first drive launched after KP-FATA merger which will continue from July 2, to July 4, followed by catch up of missed children and surveillance in all the Tribal districts and Subdivisions except Orakzai and Kurram.
Total of 837,221 children below the age of five years will be vaccinated with oral polio vaccine by 3771 teams, comprising 3497 mobile teams, 192 fixed teams and 82 transit teams.
Coordinator Tribal Districts and Subdivisions Mahmood Aslam Khan said we are about to cover the last mile and inches away from polio eradication which needs unprecedented labors, zeal and commitment of field workers and broader support from parents and caregivers.
He said Tribal districts and subdivisions are achieving the highest level of performance and incredible progress has been made during past couple of years but rooting out polio from the region would only be possible with continued efforts of field worker, partners and administration and security agencies as demonstrated in past years.
Coordinator, Mahmood Aslam Khan advised EOC Team to focus on vaccinating persistently missed children and especially children on the move.
He emphasized that high risk mobile population and particularly target mobile population crossing borders should be focused and every child must be immunized.
Tribal districts and Subdivisions are without a confirmed polio case for the last 23 months.
Last polio case in the region was reported on July 27, 2016 from District South Waziristan.
Not a single confirmed polio case was reported in 2017 and none have been reported in 2018 so far.
In a recently concluded Technical Advisory Group (TAG) Meeting high level international experts have highly appreciated the performance of Tribal Regions and Subdivisions, particularly the innovation brought out by Emergency Operations Center (EOC) and District Polio Control Room (DPCRs) for reaching every child.