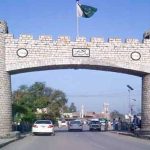 MIRANSHAH: Three persons of the same family were killed on Wednesday in an apparent incident of targeted killing when unknown armed men barged into a house and opened indiscriminate firing in Sheratla area of Mir Ali Tehsil of North Waziristan tribal district, local sources said.
According to local sources, the incident happened in Sheratla area of Mir Ali tehsil in North Waziristan where three persons of a family were shot dead inside their home. Unidentified armed men barged into a house in the night and opened fire due to which a woman, her son and son-in-law lost their lives. The reasons behind these murders could not be ascertained.
Meanwhile, in another incident happened in Shawal Adda area, situated at the merging point of North and South Waziristan, where two persons were killed in firing by unidentified armed men. The slain persons were identified as Wahabur Rehman and Israr.
No one has claimed responsibility for the killings so far.
Meanwhile, unknown armed men opened fire on a patrolling party of the security forces in Hamzoni area of Miranshah in North Waziristan on Wednesday, official sources said. However, no loss was reported in the incident.
The incidents of violence and target killings have increased in Waziristan since the return of the temporarily displaced persons. Recently, the people of North Waziristan had staged a sit-in in protest against increasing incidents of target killings in the tribal district.