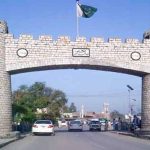 PESHAWAR: Three persons including a woman were killed and four others injured during two different stampede at a free flour distribution points in Khyber Pakhtunkhwa on Thursday.
The first incident was occurred in Sports Complex Bannu due to the huge rush of people and lack of facilities. As result of the stampede, two persons including a woman were killed. Several women were become unconscious at the flour point. The rescue 1122 rescuers shifted them to the District Headquarters (DHQ) Hospital Bannu for treatment.
Later, the women staged a protest demonstration and blocked Bannu-Kohat road for traffic as they failed to get free flour from the distribution point.
The second incident were occurred in the Charsadda  where thousands of people had gathered to get free flour at a distribution point, when people suddenly got panicked causing a stampede. A man was killed and four others sustained injuries during the stampede. The local administration said due to inadequate arrangement the flour was sent back from the distribution point.
Reacting to the unfortunate incident, Jamaat-e-Islami and Tehreek-e-Labiak has demanded registration of FIR against deputy commissioner of the incident.
It merits mentioning here that this is the third such incident across Pakistan claiming life of a person. Earlier in Muzaffargarh, an elderly woman died during a stampede at a free flour dis¬tribution point at Sar¬war Shaheed Chowk on Monday.