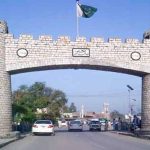 ABBOTTABAD: A landslide triggered by a massive avalanche in Gandla area of Nathia Gali near Abbottabad killed at least three persons and injured 16 others.
According to details, three vehicles were buried under the snow and mud at the site. Rescue teams along with Pakistan Army personnel and local administration reached the spot and retrieved three dead bodies, including a woman, and 16 injured persons from the two vehicles buried under the debris.
Rescue sources informed that one vehicle is still buried under the debris and search operation continues in the area to retrieved persons trapped in the vehicle.
Rescue sources said that most of the injured were in critical condition. The rescue teams shifted the injured to Murree Hospital and DHQ Complex Abbottabad.