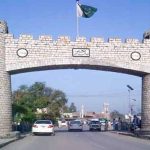 PESHAWAR: At least three policemen were martyred and another injured in militants attack in Peshawar on Thursday.
According to reports, unknown armed men attacked a police mobile van in Chamkani area of Peshawar, in which four policemen were injured. The police retaliated to the attack in which one attacker was killed, while others escaped.
The injured policemen were shifted to hospital, where three were pronounced dead. The security forces rushed to the area and started search operation in the area.