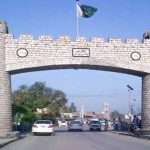 SWABI: At least three persons were killed when the roof of a dilapidated house affected by recent heavy rains in Swabi.
According to details, six persons were buried under the debris when the roof of the house collapsed in Swabi. Rescue teams reached the spot and with the help of local residents retrieved three dead bodies from the rubble while two persons were rescued in injured condition. The search for the sixth person was still going on.
Rescue teams shifted the dead and injured to a nearby hospital. Rescue sources said both the injured persons were in stable condition.