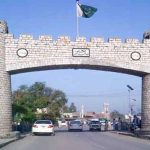 KOHAT: A five-year-old child was killed by unknown persons in Kohat on Monday.
Police informed that a five-year-old child, Hassaan was playing outside his home where unknown persons cut his throat with a sharp object.
The diseased was the son of a WAPDA employee named Ehsan. His body was shifted to hospital for medico legal formalities.
Police have started search operation in the area to arrest the perpetrators.
In Hangu district, a clash between cousins led to the killing of a man in Sarak Dana area here on Monday.
The City police said, a clash among relatives led to the killing of a man identified as Abdul Wahab while another Muhammad Habib was severely injured.
The police have arrested two persons involved in this incident from the hospital while the body was also shifted to the hospital for autopsy.
Meanwhile, in Hangu main bazaar Gangyaano village a man named Malik Shah Zar of Balyamina was shot dead.
The police have arrested the killer and recovered the weapon of crime from his possession.