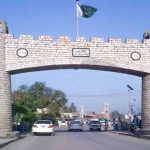 NOWSHERA: At least three people were shot dead on Sunday after an argument that erupted during children's cricket match in Nowshera.
According to details, children were playing cricket when the players indulged into a brawl over a trivial disagreement in Dag Behsood. However' the adults intervened and sought revenge.
One of the parties attacked the house of the opponent and opened fire which injured two brothers and a minor girl who was passing by the area.
The three were shifted to Rashid Hussain Shaheed Memorial hospital where they succumbed to their injuries.
The bodies were handed over to the relatives after post-mortem.