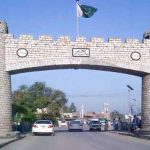 KARACHI: Law enforcement agents eliminated at least three Lyari gangwar suspects in separate late night shootouts here on Sunday.
Raiding parties comprising Rangers and the police personnel swooped on the hideouts of gangsters in different parts of Lyari, the crime-torn gangland of the metropolis.
"Lawmen, who were out on the hunt for violent criminals, engaged in a gunfight with the gangmen associated with Badla Ladla Group. Two outlaws fell down as the guns from both sides fell silent," a Rangers spokesman told media while giving out the details of an encounter that took place in on Alfalah Road in Bihar Colony.
According to a spokesman for Rangers, one of the fallen gangsters, identified as Mohammad aka Baba, was wanted by the law for at least ten counts of first-degree murder, while the other, who went by the name of Abdullah Baloch for 17 counts of manslaughter.
In Chakiwara, Shahid, an alleged target killer from the inner circle of Wasiullah Lahkoo gang, was also killed fighting paramilitary troops, the spokesman added. He was wanted for 18 counts of homicide.