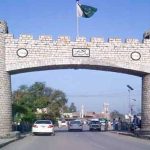 SHEIKHUPURA: At least three people were killed when roof of a house collapsed in Bhukhi area near Sheikhupura in the wee hours of Friday.
According to media reports, the deceased people belonged to a single family and they included a man his wife and their daughter.
Roof of the house collapsed due to rain, killing the three under the debris.
Rescue teams reached the spot and retrieved the bodies from the rubble.