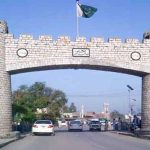 PESHAWAR: Three family members – including a woman – have died in road accident in Darmai area of district Buner on Saturday. The police officials told the media as per initial details the accident happened due to over speeding during this time, the driver lost control over his vehicle. Due to which, said police, the jeep fell into a deep ravine.
As a result, three members of a family including a woman died on the spot. After the tragedy, the local people rushed for rescue efforts, however, there were thin chances to rescue them alive. The local rescue men have, however, managed to recover one man alive and shifted to him to hospital. The dead bodies have been shifted to district headquarter hospital Dagar, from where it will be handed over to the family after necessary medic-legal procedure.
Police said that a case has been registered and further investigation into the accident is underway.