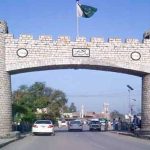 ABBOTTABAD: Violent clashes erupted between supporters of the Pakistan Tehreek-i-Insaf (PTI) and Pakistan Muslim League-Nawaz (PML-N) in Abbotabad on Tuesday over Local bodies elections' result claiming three lives and injuring two others.
According to reports, activists of PTI and PML-N of Dhamtour Union Council were going to Returning Officer office to lodge their reservations over election rigging in the said union council.
When the activists of the both parties meet in Fawara chowk, they started slogan against each others and then escalated which turns into exchange of fires. On this occasion activists from PML-N opened firing and gunned down three activists of PTI and injured two others. The killed persons include two brothers.
The deceased and injured people were shifted District Headquarters Hosital for legal medico formalities and treatment.