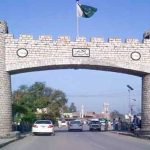 PESHAWAR: Three security forces personnel were killed and two others suffered critical injuries when their car plunged into a deep ravine near Pattan area in Bisham on Karakoram Highway on Saturday evening, it has been learnt.
The ill-fated car was going to from Gilgit to Rawalpindi as the soldiers were returning to their homes during vacations, the local police officials said.
Police and Frontier Works Organisation (FWO) personnel conducted the search and rescue operation and recovered the bodies and shifted the injured to nearby THQ hospital in Bisham.
The injured were later moved to Ayub Medical College in Abbottabad. However, police have not informed about the identities of the injured and deceased.