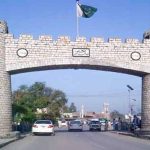 KASUR: Security forces have arrested three suspects Asif, Umar and Baba Ranjha from Kasur, allegedly involved in the kidnapping of seven-year old Zainab who was brutally raped and murdered.
According to media reports, the suspects have recorded their statements with the police starting from Asif who kidnapped the girl.
Asif handed over the girl to Umar after abducting her, said the police quoting the statements of the suspects and added that Zianab was then kept at the house of Baba Ranjha.
The police after obtaining the statement, the officers launched a search operation at the house where Zainab was kept.
Meanwhile, as many as 444 people out of 500 have been released after their DNA tests were cleared whereas the detained security guard has also been allowed to go home.
It merits mentioning that the ill-fated seven-year-old Zainab was brutally raped and murdered in Kasur and her body was found in a heap of garbage, which sparked protests and outrage in Kasur.