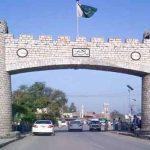 QUETTA: Three terrorists attempted forced entry in Pearl Continental hotel in Gwadar, Inter Services Public Relations said Saturday.
According to statement issued by ISPR, the media wing of the military, security guard at entry challenged the militants.
Terrorists opened fire on PC security guard who embraced Shahadat.
Security forces have cordoned area, the statement said and added guests have been safely evacuated.
Terrorists encircled by security forces in staircase leading to top floor.
Clearance operation in progress, the ISPR said.
Reports also say that the terrorists are heavily armed, have rocket launchers and may be wearing suicide jackets.
Balochistan Information Minister Zahoor Buledi said that all the foreign and local guests staying in the hotel have been safely evacuated and the forces have started operation to counter terrorists within the building.
Buledi he will share details with the media once the operation is over.