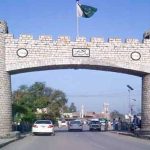 PESHAWAR: The Counter Terrorism Department (CTD) arrested three terrorists during raids in Peshawar, Charsadda and Mardan here on Wednesday.
According to details, CTD arrest suspected members of the militant Islamic State (IS) group from Peshawar's Qazi Kaley area. CTD Senior Superintendent of Police Dr Mian Saeed confirmed the arrests in what is the first time captured 'militants' have been termed IS suspects by the CTD in the province.
SSP Saeed claimed that a man called Muhammad Farid, who recently joined the IS, was arrested during a raid in the area. Farid was allegedly involved in plotting large-scale terror attacks and target killings.
The SSP said Farid was involved in 32 target killings, including including those targeting police officials in various parts of Peshawar, and had also killed five women over allegations of prostitution in the city.
He added that the arrested suspect had been trained in the Taba Toba area of Afghanistan in 2008, and that his brother was also arrested in Afghanistan over his links to IS. Another brother of Farid's was killed in an encounter with security forces, he said. The SSP claimed that Farid had disclosed the names of his companions.
Meanwhile in Charsadda, CTD arrested a wanted terrorist during a raid. CTD carried out anti-terror raid on inputs received from secret agencies about the presence of terrorist in the area.
According to CTD spokesperson, the arrested terrorist was involved in attacks on police and shifted to undisclosed location for further interrogation.
CTD during raid in Mardan arrested a wanted terrorist Sohail Nazir. The arrested terrorist was involved in attacks on security forces.