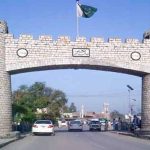 UPPER DIR: At least four people including three women and a child were killed when a vehicle fell into a deep ravine in Upper Dir on Monday morning.
According to local police, the accident occurred near Siyasan area of Upper Dir due to over speeding.
The deceased people had sustained critical injuries who were taken to a nearby hospital for medical assistance, the police said.
The police added that all succumbed to their wounds during the course of treatment.
The deceased have yet to be identified.