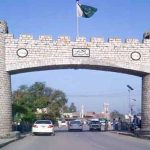 ISLAMABAD: The authorities are ensuring strict security arrangements inside and outside the Supreme Court (SC) ahead of Panama Leaks' verdict that is due to be announced on Thursday at 2pm.
More than 500 policemen would perform duties inside the court whereas additional force will also be deployed outside. Six to eight officers will accompany every political party leader.
Sources said that 15 special passes would be issued to each party in the case while measurements have been taken to bar the political activists to enter Red Zone area. Stern action has also been directed against those raising slogans in the premises of the court.
On the occasion, unusual security would be given to Pakistan Tehreek-e-Insaf (PTI) chief Imran Khan, Jamat-e-Islami (JI) chairman Siraj-ul-Haq and Awami Muslim League (AML) leader Sheikh Rasheed.
Keeping in view the whole scenario, Inspector General of Islamabad police has summoned an important meeting to inspect the arrangements in the light of guidelines from SC registrar.