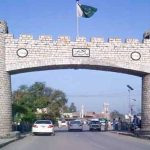 LAHORE: Jamaat-e-Islami chief Siraj-ul-Haq on Sunday said the government's honeymoon was over and it was time for it to deliver on its promises.
Addressing a ceremony, Siraj said the government had made one announcement after another but it was time to deliver rather than making announcements.
The JI leader lamented that the ministers were fighting among themselves and passing statements against each other. "The government's philosophy is to take U-turns," Siraj remarked.
"What steps has the government taken in the past four months towards making the country [like] the state of Madinah?" he questioned, adding that "everyone is worried" because of the spike in inflation.
Criticising the ongoing drive against encroachments in Karachi and Lahore, Siraj said there was "no justice in carrying out the operation while being deaf and blind" to the plight of the poor.
"Six thousand homes have been demolished in the name of anti-encroachment drive," he pointed out, adding that the spaces razed by the authorities were leased out to the public.
Siraj said that his party has not decided to initiate a movement yet but would represent the public in voicing its woes.
The government had announced to provide relief to the people, yet it has failed to do so, the JI chief added.