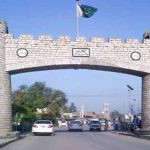 RAWALPINDI: Pakistan Peoples' Party (PPP) chairman Bilwal Bhutto Zardari on Monday said that it is the time to get rid of this 'puppet government' as Prime Minister Imran Khan's every promise and slogan proved a lie.
Talking to media outside Adiala Jail on Monday, he said that jail is not new for former president and party co-chairman Asif Ali Zardari, he had spent 11 years in jail.
Bilawal said that the country's judicial system is the way that an accused is arrested, and asked what will happen to a common man if such treatment is with the former president. "Asif Zardari is ill but he will not compromise on principles," Bilawal said.
Criticizing the government, he said that when the PPP comes to power, it works for welfare of poor rather than the rich but today people are worried because of rising inflation. They have been drowned in a tsunami of inflation.