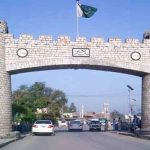 The government has agreed to fulfill all demands of the banned Tehreek-i-Labbaik Pakistan except the expulsion of the French envoy, Interior Minister Sheikh Rasheed announced Tuesday.
At a press conference in Islamabad, he said: "Pakistan is not in the position to expel the French ambassador or close the French embassy." The announcement came after the federal cabinet meeting.
The TLP had presented three demands, including one to expel the French ambassador to Pakistan, to Rasheed, who held talks with its incarcerated chief Saad Rizvi on Sunday.
On Tuesday, the minister revealed that the party's demand regarding the French ambassador was "very complicated". "Pakistan is Islam's biggest nuclear force. The world is plotting to impose sanctions on us and our economic condition is in front of you. France is leading Europe and all European countries are standing with France."
The TLP has given the government a deadline till November 2. "We don't want to solve everything and then see them coming to the streets again."
Pakistan want peace. It is the country's need. We are already dealing with inflation and the dollar is becoming expensive, the minister said, reiterating that Islam and Pakistan are a single unit.
He has urged TLP's central council and Saad Rizvi reconsider their demand concerning the French embassy and ambassador. "I expect them to think better for Pakistan and Islam."
Mufti Umair Al-Azhari, a member of the TLP negotiation committee, claimed Tuesday that Rasheed assured them that he would place their demands about the French ambassador's expulsion before the federal cabinet on Tuesday night and update the TLP about the response.