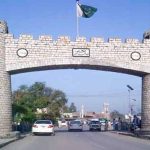 LAHORE: Senior leaders and workers of the PTI including Shah Mehmood Qureshi and Asad Umar have voluntarily surrendered to Lahore police as the party has begun court arrest movement.
Several PTI leaders and activists boarded the prisoner's vehicle and climbed onto the roof of the prisoner's van at the Capital City Police Officer (CCPO) office. Umar Sarfaraz Cheema and Azam Swati were also among the PTI leaders who sat in the prisoner's van.
The police said that they did not arrest them, but they themselves came and sat in the prison van. "We have not received any arrest order from the government."
PTI leaders and workers demanded of the police to take them into custody. The activists climbed into the van and took selfies, PTI's social media account also released selfies of the arrested leaders.
However, later on, the police announced that those leaders and workers of the PTI who want to be arrested should sit in the vans. They were shifted to camp jail.
تحریک انصاف کی سینئر لیڈر شپ نے سب سے پہلے خود کو گرفتاری کے لیے پیش کر دیا لیکن پولیس غائب۔ #جیل_بھرو_خوف_کے_بت_توڑو pic.twitter.com/rGbE6vnHdq

— PTI (@PTIofficial) February 22, 2023