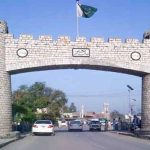 TORKHAM— Forty thousands of US dollars were seized from a man at Torkham Border who was trying to smuggle the money to Afghanistan.
As per reports, the security forces on Wednesday seized $40,000 that were concealed in the slippers to be smuggled to Afghanistan.
The security forces seized the dollars and arrested the accused.
Further investigations in this regard were underway.