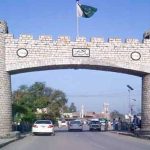 PESHAWAR: Following cross border attack by Afghanistan in Chaman, the neighboring country once again resorted to another cross-border attack at Torkham crossing.
Pakistan's armed forces retaliated the Afghan attack, after which the spell of shelling has ceased. Torkham border has been sealed for all traffic.
According to political sources, curfew has been imposed at Torkham border for an indefinite period of time following the attack.
There is high security alert at the border and no one is allowed to head to Torkham border.