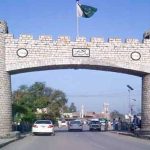 Afghan Taliban halted the return of Afghani nationals inside the country via Torkham border. However, automobile traffic remained as loaded trucks from both countries crossed the border.
The exact reason behind the closure of the border for pedestrians is still not confirmed but some local sources point towards hundreds of striving Afghans gathered near Torkham border. These people are in hope that the border will open for pedestrians crossing and they will come to Pakistan.
On the other hand, security officials state that they have not yet received any instructions regarding the opening of borders for pedestrian crossing.