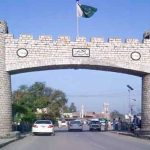 ISLAMABAD: Bushra Bibi, wife of Pakistan Tehreek-e-Insaf (PTI) Chairman Imran Khan, filed a petition in the Islamabad High Court (IHC) against NAB's call-up notices regarding Toshakhana case.
She filed the petition through her lawyer, Khawaja Harris, naming the NAB chairman and additional director of NAB Rawalpindi as respondents in the case.
Bushra Bibi has requested the court to declare the notices as null and void and to bar the NAB from taking any disciplinary action against her based on them. Additionally, she has asked the court to prevent the NAB from converting the case inquiry into an investigation. Bushra Bibi failed to appear before the anti-graft watchdog to join the inquiry proceedings in the reference, leading to the issuance of the call-up notices.
In February, a notice was sent to Imran Khan, Bushra Bibi, and others in the Toshakhana case, indicating that the competent authority had taken note of an alleged offence under the provisions of NAO, 1999, stating that during their tenure in office, they had retained certain state gifts presented to them by foreign dignitaries, including luxury items such as Rolex watches, cufflinks, rings, and an iPhone. The notice requested that they join the inquiry proceedings before the Combined Investigation Team (CIT), NAB (Rawalpindi/Islamabad), Civic Centre, G-6, Islamabad.