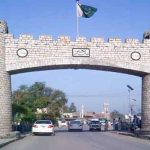 GALYAT: Dozens of tourists were stranded when a massive avalanche on Sunday blocked a main road linking Murree and Abbottabad.
According to details, Murree-Abbottabad Road was blocked for all kind of traffic after an avalanche hit near Changla Gali, causing a long queue of vehicles on the road.
Authorities said that operation to reopen the road is underway and will be completed very soon.