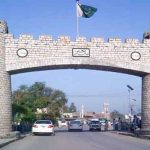 ISLAMABAD: Anjuman Tajiran Pakistan has announced to observe countrywide shutter down on July 13 to protest the federal budget 2019 for what it says the anti-business.
Central president of the leading traders group, Kashif Chouhdary, says their body has rejected the IMF-dominated budget that is anti-traders.
"We will not let this budget implemented on small traders who are already struggling with rising input cost and dwindling profits," he said.
Kashif advised the PTI government to realize the gravity of the situation and withdraw the budget announcements that will push the small traders to the wall.
The trade bodies, transporters, farmers, CNG pump operators, textile industrialists, owners of small & medium enterprises have all threatened countrywide strike against the tax measures contained in the budget 2019-20.
Leading trading bodies and associations like All Pakistan Textile Mills Association (APTMA), and Pakistan Hosiery Manufacturers Association (PHMA) have too raised concerns over the taxation on export sectors in the federal budget presented by Imran-led government.