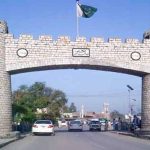 GILGIT: Traders in Gilgit-Baltistan are protesting against the introduction of Web-Based One Customs (WEBOC) for goods clearance at Sust dry port and Chinese and Pakistani citizens faced difficulty while travelling to each others' countries via Khunjerab Pass.
Containers loaded with import and export goods are currently stranded at the Sost Port near Khunjerab Pass as traders have refused Customs clearance through WeBOC.
The call for sit in and boycott of trade between the two countries was given by the Gilgit-Baltistan Chamber of Commerce and Industry (GBCCI), as well as local import and export associations and trade organizations.
Addressing a press conference at the Gilgit Press Club, stakeholders said the officials of
Pakistan Customs and Federal Board of Revenue (FBR) were reluctant in
redressing genuine grievances of the region's trade and business community.
The GB High Court had recently granted a stay on the WeBOC system at Sost Dry Port.
However, the FBR and Pakistan Customs have refused to accept the stay order.
The domestic traders and exporters bemoaned the introduction of WEBOC as they claimed GB didn't have reliable internet services and weren't adept to learn this new system.
As a result, trade got suspended with China via the Khunjerab pass after a decision was reached at a meeting of
several trade organizations in Gilgit, which was issued by GB Chamber of
Commerce and Industries (GBCCI).
Officials of various GB importers and exporters association alongside Hunza-Nagar Chamber of Commerce custom's clearing agent's association were also part of this meeting.
Some days ago the Gilgit-Baltistan importers met with Federal Board of Revenue (FBR) Chairman Tariq Mehmood Pasha at his office and discussed issues related with the Web-Based One Customs (WeBOC) and
he listened to all the issues related with the installation of WeBOC and other
various issues faced by importers working at Sost dry port, Gilgit-Baltistan.
Tariq Pasha promised with the importers that issues faced by business community
of GB will be resolved as soon as possible with the mutual understanding among
Customs department and importers During meeting, the importers told Pasha that there is no proper facility of internet
while most of the importers are unable to use the WeBOC. They also told Tariq Pasha that importers are on strike from last one and half month due to imposition of WeBOC.
The President Gilgit Chamber of Commerce Johar Ali Raki while talking to APP said "FBR chairman had ensured
them that FBR will withdraw electronic I-Form to facilitate the GB importers
but still we are waiting.
President Nagir chamber of Commerce Muhammad Ali Qaid while talking to media here in Gilgit
said that shipments from China has been stuck for the last many days due to the requirement of computer-based clearance system at Sost Dry Port, which would add to the losses oftraders.
He questioned if government can declare Gowader Port free tax zone then why GB
cannot be declared like that. He added that the business community will not
remain silent against the dual policies of the Federal Board of Revenue (FBR).
He maintained that GB is going to become the central point of the CPEC, so it
should be given the status of free zone.
Meanwhile, Deputy Collector Asfandyar Khan issued a press
release with reference to the news published in media regarding roll out of
WeBOC at MCC Gilgit-Baltistan and the protest by traders. According to the
press release, WeBOC is clearance software that provides for end-to-end
integration.
Clearing agents, traders, terminal operators, banks and
many other government and non-government functionaries are linked in the system
and the relevant data is visible on screen to all the stakeholders. Goods
Declarations are processed through paperless workflow environment which ensures
speedy disposal, decreases dwell time and cost of doing business. Moreover,
Risk Management System (RMS) of WeBOC further reduces dwell time, under Green
Channel, by marking consignment directly to the port authorities thus,
bypassing examination and assessment.
Press release further stated that, In a nutshell, WeBOC is primarily aimed at trade
facilitation and it is regrettable that clearing agents are protesting against
its launch at SRDP, Sust. Recently, internet connectivity was established at
the dry port and training sessions were held to educate the stakeholders
regarding functioning of different modules of the software. MCC
Gilgit-Baltistan has also operationalised a Trade Facilitation Centre at the
dry port for traders and clearing agents to ensure speedy disposal of
consignments.
Ali Asad Assistant Collector, MCC Gilgit-Baltistan while talking to media said that the
collectorate has given many options to the importers for ending long strike
against the new developments at the GB, but they are unwilling to do so. They
have a one-point agenda that they do not want the WeBOC at the Sost.
Meanwhile, the combined opposition in the Gilgit-Baltistan Assembly (GBA)
and Awami Action Comm­ittee (AAC) warned on Saturday that if traders' demands were
not accepted protests would be launched across the region.