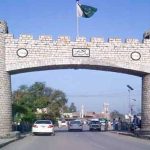 MARDAN: Pakhtun traditional Mukha (archery) tournament has kicked off in Ghundo area of Katlang tehsil in Mardan.
Mukha teams from Jawar and Bazargai from Buner, Shamozai, Babuzai and Mian Khan from Mardan and Swabi were taking part in the tournament.
Mukha was the traditional Pakhtun archery game which was played with a long arrow (ghashay) and a long bow (leenda). The arrow has a saucer shaped metallic plate (tubray) at its distal end. The archers play in teams and attempt to hit a small white wooden target called takai surrounded by a circular ring called kwaara.
The target was secured in fresh clay placed at some height a few meters away from the archer. Each team have 10 players and each of them aims at the target four times. The team hitting the target more in its 40 attempts win the competition.
Mukha tournament was organised in Mardan in spring season every year.