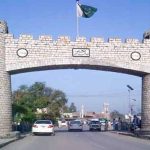 NOWSHERA: At least four people have been killed as a result of an accident in Nowshera district of Khyber Pakhtunkhwa where a freight train hit six people near a railway line.
According to details, two children are critically injured as four including a woman are reported dead. The deceased include Taj Muhammad, his sister-in-law Nazia and two minors.
The affected family is a resident of Charsadda. The freight train was going from Peshawar to Rawalpindi.